Bodham Village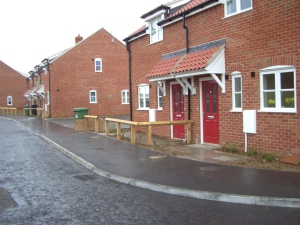 Bodham is a small village near the North Norfolk Coast on the main road (A148) between Holt and Cromer.
The Village has much to be proud of with lots going on for villagers and visitors to enjoy.
Bodham has an entry in the Domesday Book of 1085. In the great book Bodham is recorded by the names Bod(en)ham, and Botham. The main landholders Hugh de Montfort and Walter Giffard.

The old village sign showed a representation of a medieval tax collector going about his employment. The tax collector's name was Boda and is mentioned in the Domesday Book, which confirms his existence and the fact that he lived there. Bodham means "Boda's Village".
We have had many new properties built in the village over the last few years, but the village still retains a small village atmosphere.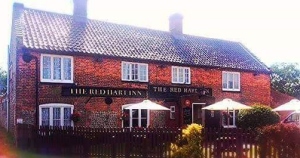 We have a thriving Pub, The Red Hart Inn, a cosy, old fashioned village pub which serves delicious top quality food and everyone is made to feel welcome by Tim, Elaine and Martyn.
It has a patio adjoining the restaurant with comfortable seating and some shaded areas. Also a large garden to the side and a small front garden, both with seating.
Pets are welcome so this is the ideal stop on your country walk, the perfect place to relax and unwind.
During Covid they provide a Take Away service (Click for details) and are now opening a Community Shop (Click for details).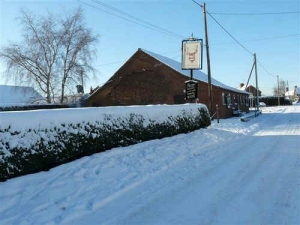 Bodham and Beckham Village Hall
The original hall was a wooden structure and was well used. The Primary School had their meals in the hall and regular dances were held. Many plays and pantomimes were put on for the entertainment of the villagers and beyond.
The new Bodham and Beckham Village Hall is a modern hall less than twenty years old.
It is regularly used by Bodham bingo club, yoga classes and church events. Regular quiz night fundraisers are held.
The hall is heated by electric heaters. Grants from Norfolk Community Foundation have been obtained to put in equipment for film showing and regular monthly shows are held on Friday during the winter.
A loop system has also been installed to help the hearing impaired.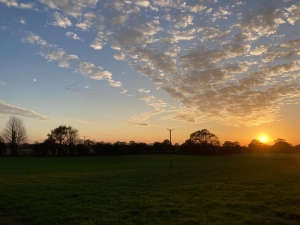 Wildlife and Walks
We are very lucky here and have miles and miles of beautiful country walks. You can lose yourself for hours in and around the village.
We also have some stunning walks to East and West Beckham, Baconsthorpe Castle, Selbrigg Lake, Bodham Woods and for those who want to walk a little further you can walk to the sea shore.
There is a wide range of wildlife to see on your travels and beautiful plants and flowers.
Designated footpaths are well marked.
If you do decide to take a walk along our gorgeous paths and take your trusty companion with you, please be aware that children often walk these paths and there is nothing worse than having them step into a pile of dog mess. Please bag it and put into the bins provided.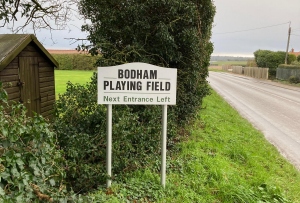 Bodham Playing Field has a full-size football pitch and a 'juniors' pitch. The Playing Field Committee has had the pavilion refurbished with the help of grants from Bodham Bingo Club, Awards for All Lottery Fund and North Norfolk District Council's Active Communities Fund.
There are two changing rooms, showers, toilets and a fully fitted kitchen with an attached is a referees room. We have disabled toilets accessible with the use of a RADAR Key. It also has floodlights which allow for night games. Many fund raising events are held throughout the year to support the Playing Field and grants have been obtained to purchase exercise equipment. The outdoor gym equipment - mums and dads can get fit while children play on the childrens' play area. The more unusual Bodham Croquet Club is also on site.
It is also the venue for the Rock Bodham, Big Weekend, which is ever more popular.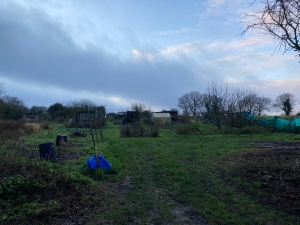 Bodham also has several allotments which are very well kept and grow a variety of produce.
These are very popular and you need to get your name on the waiting list if you want one.
We also have well stocked, purpose built fishing lakes in a beautiful, peaceful setting. There are over 40 fishing platforms and toilets are available on site.
We are a small community with a big heart.



All the latest information about Bodham can be found on our monthly newsletter. Please click the link on the side menu to access this information.